Lines, shapes, and materials create a sense of curiosity for anyone gazing upon the Wedge table.
The Wedge table is one of designer Nicola Malachin's creations during his work at Serafini. The minimal stones and shapes of the Wedge table are the key elements that best express the beauty and elegance of each type of stone. Thanks to its soft shapes, this Italian design product adapts to any kind of environment, embellishing it and further enhancing the value of the setting in which it is placed. Luxury products such as the Wedge Table are an example of timeless and trend-free design.
Get closer and discover the thrills that the Wedge table evokes
We're facing at a massive marble table with soft, rounded curves that communicate stability and elegance. Simply by looking at it, this marble table showcases the fantastic properties of the material it is made of. The marble top is the perfect support to admire the colors and veining that this stone features. Owing to its lines, the base conveys a sense of security, stability, and solidity. The two components of the table work together to create a product that
seeks to maximize the qualities of the raw material of which it is composed.
About
The Wedge Table is composed of two elements with geometric, rounded, and minimal shapes. To make the base, we start with a block that is cut through the use of a wire to obtain a three-dimensional and curved piece. After cutting it, the piece is milled thanks to a 5-axis robot that carves the stone all over. Meanwhile, the tabletop is made from a slab cut with a single-blade saw and then shaped by a CNC (Computer numerical control). Once the mechanical processes are finished, our craftsmen begin to work the components by hand. A steady, experienced hand polishes and finishes the product, giving it life and soul.
Serafini believes in growing designer since his birth. He is always looking for new talent to join his team, during the past years many designers have come to join the Serafini team with the vision of creating products with no excuse, with freedom of shapes, with one of the best factories you can find with such an exclusive design brand.
We are able to produce the product with composite materials and special finishes such as Wood, Galvanised Steel etc., for more information and specific requests please contact our office.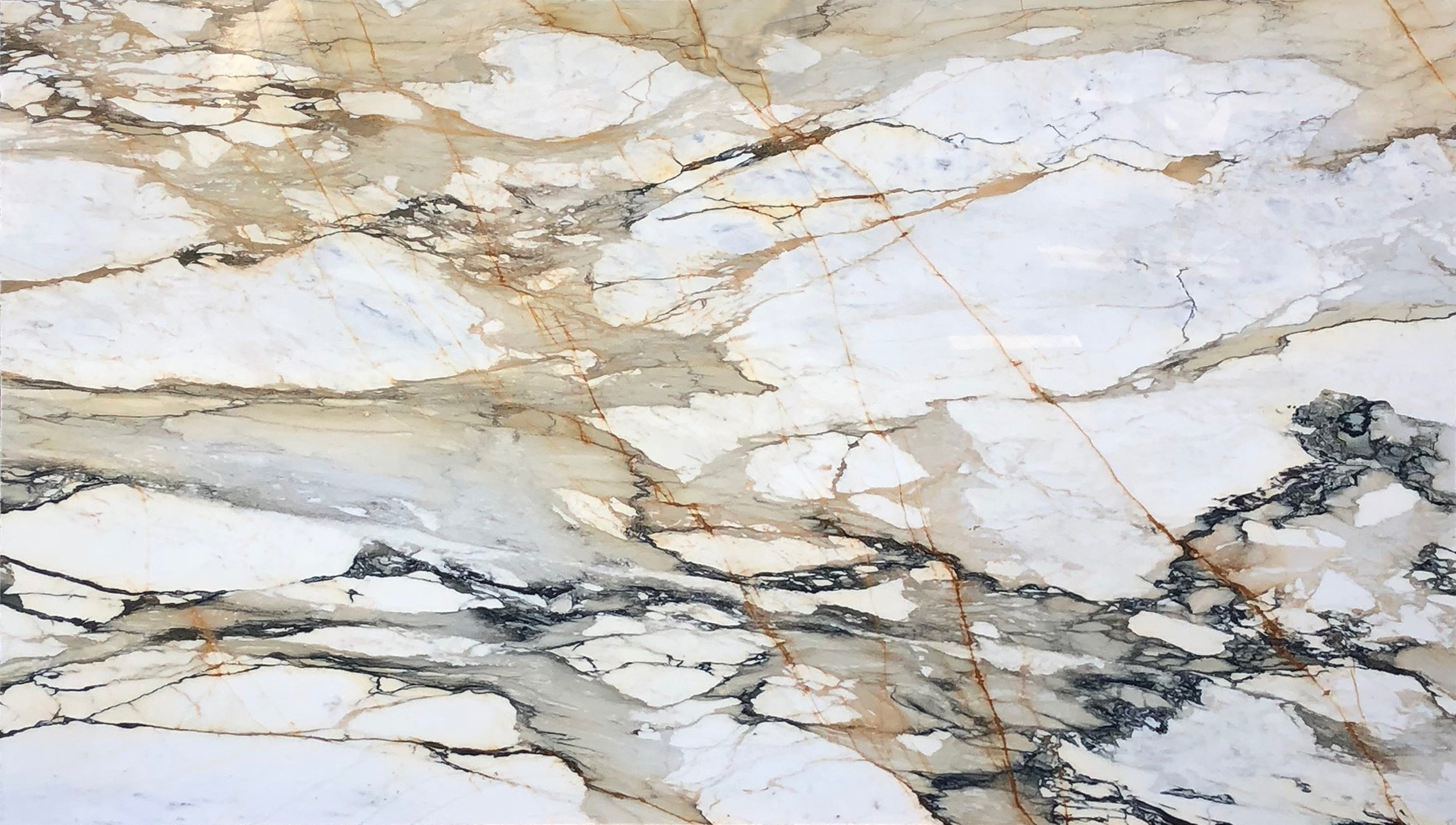 Calacatta Macchia Vecchia
Azul Cielo (only 2cm thick slabs)
Dimensions
130Ø 75h cm
Weight (full)
360 kg
Weight (hollow)
260 kg
Variation
two types of ray
Note:
Weight full : That the part does not undergo internal machining to reduce its weight.
Weight hollow: that the piece is hollowed out at some strategic points to reduce its weight without changing its aesthetics or structural characteristics in any way.
*Please note that all our products are customizable
The edges can be customized in two different ways:

​
-the first one is more linear with an inclination that clearly thins the thickness;

​
-the second one is softer and more rounded making people wish to touch the table.
I really like the Wedge table but I'm afraid it's too heavy, what can I do?
The base of the Wedge table can be ehollowed in order to greatly lighten the whole structure.
Can I have a price list by marble range?
Yes, of course. Just ask the price list to our Sales Team. They will be happy to provide the price list of the products you desire.
It depends on the product you need. Just ask our sales team
There are so many materials to choose from! so much choice!
I am happy that I chose this product
I bought a Wedge table and am satisfied with my choice. Initially I was undecided about the type of material with which to make it, it was difficult to choose from all the types of marble available, finally I chose Kyknos and it looks really good in the bright living room I have at home.
I have already owned a table made by Serafini for some time, seeing this during a fair I fell in love with it and immediately bought it.
Design, craftsmanship, materiality:




Three fundamental concepts become an expression of every Serafini product.
Serafini is a company that for more than 10 years has been choosing quality in all its expressions: in sophisticated design, in the choice of natural marble and precious materials, and in innovative processing techniques.